2019 MICHAEL LEUNIG CALENDAR THE AGE THE SYDNEY MORNING HERALD 9780648125464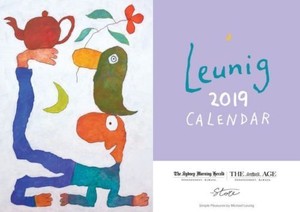 ---
2019 MICHAEL LEUNIG CALENDAR 
A4 THE AGE THE SYDNEY MORNING HERALD 
Last Year's No1 Selling Calendar
An undisputed national treasure, Michael Leunig's calendars are loved by nearly 50,000 fans throughout the world. The calendar makes the perfect gift that keeps you, your loved ones or even your clients, entertained all year round. Examples from the 2018 Leunig calendar can be seen in the image gallery.
Make sure your clients start the year off with a smile. Keep your company top of mind ALL year, by gifting them with something that will keep them coming back year after year. Bulk orders cannot be shipped internationally.
A high-quality, landscape, A4 sized calendar with a gloss cover & uncoated pages to enable notations.
Michael Leunig draws cartoons for The Sydney Morning Herald and The Age. He has done so for more than 40 years. He is not an emerging artist; in fact quite the opposite. Some might his say his offerings are not cartoons in the normal editorial sense because they often seem to ignore the news of the day and contain far too many birds, moons and teapots to be relevant to the modern world. After all, teapots would appear to have little bearing on the great historical moments or struggles for power. And what serious journalist has ever interviewed a duck or contemplated the moon's influence on the economy? Being as free as possible from the madness of the modern world is one of Leunig's mysterious, personal projects, and he invites you into this lyrical realm, which can be enjoyed one day at a time. And who knows, perhaps in his own way, Leunig is trying to get to the heart of things, where the troubles and joys reside.