Photo: Babe Ruth & Bat Boy, 1919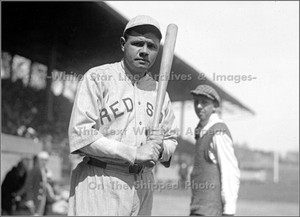 ---
-George Herman Ruth, Jr-George Herman Ruth, Jr. (February 6, 1895 – August 16, 1948), also known as "The Babe", "The Great Bambino" & the "The Sultan of Swat" is widely regarded as one of the greatest baseball players in history. Many polls place him as the number one player of all time.Although he spent most of his career as an outfielder with the New York Yankees, Ruth began his career as a successful starting pitcher for the Boston Red Sox compiling a 89-46 record. In 1918, Ruth started to play in the outfield and at first base so he could help the team on a day-to-day basis as a hitter. In 1920, Red Sox owner Harry Frazee sold Ruth to the New York Yankees. In his next 15 seasons in New York, Ruth led the league or placed in the top ten in batting average, slugging percentage, runs, total bases, home runs, RBI, and walks several times. Ruth's 60 home runs in 1927 was the single season home run record for 34 years until it was broken by Roger Maris. Ruth's lifetime total of 714 home runs was once considered one of Major League Baseball's "unbreakable" records, but Hank Aaron broke it in 1974 & Barry Bonds broke Aaron's record in 2007. After Ruth was sold from the Red Sox, the Red Sox franchise floundered for decades after having been previously the most successful Major League team prior to the trade. This great disparity of success between the Yankees and Red Sox eventually led to a superstition that was dubbed the "Curse of the Bambino", a "curse" that effectively ended when the Red Sox won the World Series in 2004, their first World Series title in 86 years.In 1936, Ruth became one of the first five players elected to the Baseball Hall of Fame.In 1969, he was named baseball's Greatest Player Ever in a ballot commemorating the 100th anniversary of professional baseball. In 1998, The Sporting News ranked Ruth Number 1 on the list of "Baseball's 100 Greatest Players." In a 1999 ESPN poll, he was ranked as the third greatest athlete of the century, behind Michael Jordan and Muhammad Ali.This new Black & White Print of the original archive is on Heavy Premium Glossy Photo Paper, Large 11" x 8.5" format, (exact dimensions may vary) in flawless condition.
Please visit our store and look in the Classic Sports Gallery to see a unique assortment of Classic Sports Posters and Prints.

*************

Most of our Posters & Prints are available in 5 different sizes although exact dimensions may vary on certain views due to occasional non-standard aspect ratios: 7" x 5": $4.99 ******* 8.5" x 11": $8.00--$11.00 ******* 13" x 19": $17.50 ******* 18" x 24": $21.50 ******* 24" x 36": $24.50--$29.50. Please contact us via e-mail to set up any of our prints in any of the above size formats for you in BUY IT NOW.

*************

ABOUT OUR PRINTS:

All our views are printed to order by one of the most advanced Photo Art Printers in the industry that uses ultra chrome archival ink rated to maintain its original color characteristics for 125 years and beyond.

The detail and definition of the shipped product is usually excellent and much sharper than the low resolution image used here except in the rare exception that it be the clearest known view worldwide in which case it would be sold on the merits of its rarity alone and clearly stated as such. Our printing process results in an exceptionally vivid, colorful and detailed view suitable for museum or gallery display. All our 8" x 11" prints are shipped flat with a rigid cardboard stabilizer for durable impact and bend protection while our posters are shipped rolled in a rigid cylindrical tube that's placed inside a 2nd shipping tube for double impact protection. To date neither has ever failed our shipping delivery system. We combine shipping on multiple purchases so you only pay one reduced shipping charge regardless of how many items you purchase.

Our standard accepted form of payment is Paypal or Credit Card however you may contact us if you wish to arrange an alternative payment method.

*************

Please click here to visit White Star Line Archives & Images.

 Thank you!