galvanised galvanized quad wobble roller bracket multi boat jet ski trailer G181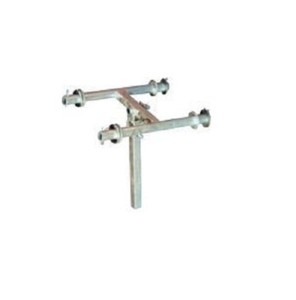 ---
Hi we have for sale today a part # G181

 

For more parts and pick ups you can visit our website at trailercaravansuperstore.com.au : 0351750998 Address: 182 Argyle street Traralgon VIC 3844

Heavy duty Galvanised Boat Trailer quad wobble Roller Bracket.

Comes as pictured.(rollers not included)4 split pins, 4 washers, 2 Bolts and nuts included rollers are in another auction

Different Brackets are available by clicking on the following shortcut.

http://stores..com.au/traralgon-trailers/brackets-/_i.html?_fsub=822476919&_sid=1050667509&_trksid=p4634.c0.m322

 

Postage

Is done with tracked postage at $15.00 for the first item and $3 each item there after. This saves on hassles of lost items in transit.

Express postage is available at checkout at $18.80 for the first item and $3 each item there after.

 

Combined postage

The total weight of the items is at the bottom of the listing in grams. If buying more than one product, we will add all the weights up and post them off in the appropriate pre-paid satchel. You will only be charged as follows,

500 gram total = $9.85 or $13.55 express

3000 gram total = $15.00 or $18.80 express

5000 gram total = $18.50 or $26.60 express

If buying more than one product, please hit buy it now on all items you are purchasing, then ask for total before paying. We can not change the postage after you have paid.

 Payment

-cash on pickup

-direct deposit as follows (please leave user name as reference)

           Account name- Traralgon trailers

           Bank- Westpac

           BSB# 033259

           ACC# 364680

-EFT payments can be made in store or over the phone.

-. is also available

 Pickup

We are open 8.30am to 5.00pmMonday to Friday and 9.am to 1pm Saturdays.

We are located at 182 argyle st Traralgon.

Our contact number is 04887729210 or 0351750998

About us

We buy in bulk and pass the savings on to you.  We stock all our items and generally post them off the same day.

Traralgon Trailers has been building trailers in the Latrobe Valley for 40 Years.

Our trailers are well known as the best in the trailer business. Some of them are 35 years old and still going strong. 

The business also carries a large range of spare parts and does trailer, horse float and caravan repairs.

Please check out our other items for sale and have a great day.

2300

         Traralgon Trailers

       ACCC Refund Policy

Refunds

Please choose carefully as refunds are not given if you got what you asked for but simply changed your mind, found it cheaper somewhere else, decided you did not like the purchase or had no use for it. We recommend you carefully preview any orders before adding them to your shopping cart and proceeding with your order. 

 

Warranties

If you have a minor problem with a product, we can choose to give you a free repair instead of a replacement or refund. All repairs will be sent away to be inspected before decision is made.